ModPo update for Friday of week 9
If it's your intention to post a response to assignment #4 (create a mesostic or do one of Bernadette's writing experiments), I would strongly urge you to create it and post it HERE before Sunday if possible. We will all begin to read and respond to these assignments starting on Sunday—and throughout week 10. If it's HERE before or on Sunday it's most likely to receive at least four responses.
If you are ready for a sneak peek at week 10, you might start by listening to the audio introduction HERE.
Below is a selection from ModPoPLUS for week 9—featuring the work of Nick Montfort. Nick loves severe constraints, especially alphabetical ones. One day a year ago Nick came to our studio and we recorded several conversations about his work. I think you will enjoy these!
One of my favorite Bernadette Mayer experiments: "Write a work gazing into a mirror without using the pronoun I."
Looking around for a nice sit-down in Jackson Mac Low's "justice chair,"
—Al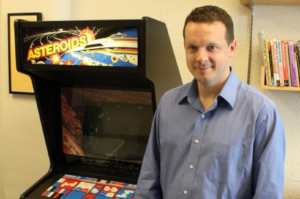 PART FIVE of week 9 in ModPoPLUS: NICK MONTFORT
21. listen to Nick Montfort perform "The Exhaustion of Libraries": LINK TO AUDIO
22. read Montfort's "The Exhaustion of Libraries": LINK TO TEXT
23. listen to Nick Montfort perform "I Icing Sing": LINK TO AUDIO
24. read Nick Montfort's "I Icing Sing": LINK TO TEXT
25. read a brief commentary on Nick Montfort's "I Icing Sing": LINK TO TEXT
26. listen to discussion of Nick Montfort's poems: LINK TO AUDIO
27. read Nick Montfort's "Arcing Away": LINK TO TEXT
28. watch video discussion with Nick Montfort on "The Exhaustion of Libraries," "I Icing Sing" & "Arcing Away": LINK TO VIDEO [OFFSITE COPY]