Welcome to week 7 on the New York School (plus *news* of new poems & videos)
Today (Sunday, October 20) we begin week 7 of ModPo 2019. This week we will be reading and discussing the New York School poets. In the main ModPo syllabus we encounter Frank O'Hara, Barbara Guest, John Ashbery, Kenneth Koch, Bernadette Mayer, Ted Berrigan, Patrick Rosal, and James Schuyler.
In the ModPoPLUS (supplemental, additional, optional, extra) syllabus you can find poems by, audio recordings of, and videos about Eileen Myles, John Yau, Ann Lauterbach, Vincent Katz, Alice Notley, Hanif Abdurraqib, as well as more materials by and about O'Hara, Ashbery, Guest, Mayer, and Schuyler.
We feel we could host an entire course on the New York School and its later/recent generational effects!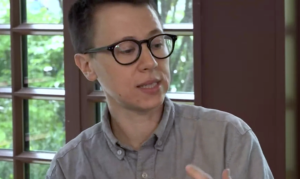 For those who have been involved with ModPo prior to this year: note that our filmed discussion of Koch's hilarious satire of William Carlos Williams's "This Is Just to Say" is new. And here's exciting news: we have added a NEW poem to week 7's main syllabus—James Schuyler's stunning poem about Manhattan, "February."
Our live, interactive webcast this week will happen on Wednesday as usual (October 23rd) but please note that this week we will begin at 9 AM (Philadelphia time). Mark your calendars and plan to join us!
This week many ModPo people will be writing and posting essays in response to essay assignment #3. The poem we've chosen for essay #3 is new—Frank O'Hara's "Personal Poem." If you write and post an essay about "Personal Poem" this week, during week 7, you will receive at least four comments/reviews/responses during week 8.
The headnote to week 7 is copied below. My audio introduction to week 7 is HERE.
If you are a ModPo returner, I urge you to check out the new video on Koch, the new poem by and video on James Schuyler—and the new materials in ModPoPLUS (especially Lauterbach, Notley, Abdurraqib, and Katz).
Enjoy! As always, if you have technical problems you can post a question to the TECH HELP forum. You can also write to us directly at modpo@writing.upenn.edu with any questions.
—Al
HEADNOTE TO WEEK 7:
Frank O'Hara, John Ashbery, Barbara Guest, and Kenneth Koch represent the New York School of poets in this week of our course. We met Anne Waldman briefly in chapter 7 — from the "second generation" New York School. Now we add two others of that second generation: Ted Berrigan and Bernadette Mayer. Our super-close readings of Guest's "20" and Ashbery's "Some Trees" are intended, in part, to show that the non-narrative or anti-narrative styles of this group — and their propensity for sudden shifts in pronoun use, inconsistent imagery, and inside-the-community name dropping — nonetheless produce writing that can be interpreted line by line. During this week (a bare-minimum introduction to this playful postmodernity), we will get a bit of pastiche from Koch and several instances of O'Hara's I-do-this-I-do-that explorations of lunchtime, as well as examples of Ashbery's opaque lyricism, Guest's stunning memory-as-word associationalism, Berrigan's anti-narrative as daily social resistance, and Mayer's application of O'Hara's exuberant attention to daily details to a woman's life and language. Patrick Rosal's contemporary poem begins with an ensemble-voiced, present-tense, frenetic romp through New York City, very much influenced by O'Hara's mode and sensibility. But then Rosal's poem moves elsewhere, enacting diasporic return, and pushes the New York School style beyond its earlier categories by developing its own powerful synthesis of global concerns.