ModPo citizen Richard Weil has died
Long-time devoted ModPo citizen Richard Weil has passed away. He participated thoughtful and consistently in ModPo discussions (especially "SloPo"/off-season mini-courses) for years. He joined Max McKenna's Chicago meet-ups and I had the pleasure of meeting him in person at one of these during a Chicago visit. We'll miss him! Below is a photo from that gathering.
Richard's son got in touch with us to tell us the sad news and to note that he and his family will encourage Richard's friends to make donations to the Kelly Writers House endowment fund in honor of Richard's passion for poetry and the ModPo community.

The link Richard's son Darius will use on the obituary web page is this:

https://giving.apps.upenn.edu/fund?program=GRD&fund=405600

Gifts made there can be made in Richard's memory.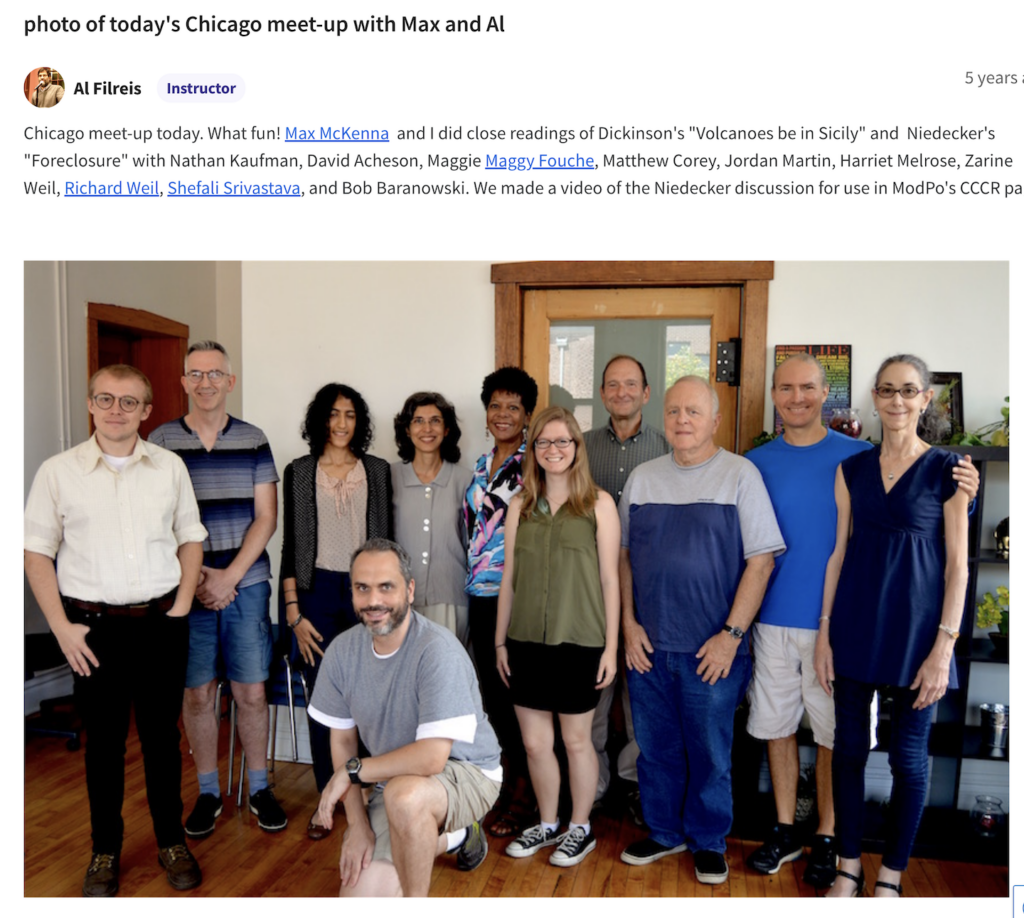 And here is Richard's obit:
Richard Weil, 73, died on Wednesday, September 29 from complications related to treatment for acute myeloid leukemia . He was the beloved husband of Zarine; father of Aaron (Linda Perry), Darius, and Delna; brother of Kathe (Robert) Jervis; and uncle of Alexa (Greg Racz) Jervis, Lisa (Jay Schwartz) Jervis, Maira Bana, and Laila Bana.  Richard was born on November 15, 1947 in Denver, CO to Bettye Lou and William Weil. A lifetime of irreverent adventure began in his teenage years when he ran away (twice), stole his father's car (briefly), and threw a raucous party while his parents were out of town, which ultimately got shut down by the police.  After college, Richard heeded the call of the open road as a truck driver for a few years before enrolling in graduate school at Marquette University to study English literature. Amid the Chaucer and Shakespeare, a quietly elegant classmate from Mumbai, India, caught his attention. For reasons that still occasionally mystify their relatives and friends, Zarine and Richard began dating and eventually married. They were together for 37 years.   Richard supported his family through a small logistics business, RW Freight. The work was sometimes mundane and required collaboration with difficult individuals. He had a basement office, and the family often heard choice words emanating from below (always in unique and inventive combinations). He earned the respect and friendship of his peers in the industry, and retired after a career of more than 45 years.  From slinging donuts at the farmer's market to holding forth on Wallace Stevens with the Lowell Society, Richard formed an extensive network of friends within the Oak Park community. Ever seeking to further his horizons, he also became a cherished member of a tight-knit Ashtanga yoga community in Chicago, as well as an enthusiastic student in online courses on modern poetry.  Family was Richard's top priority in life. Through them, his passions persist: the outdoors, bicycling, travel, poetry, gardening, music, yoga, and intellectual pursuits. He is most remembered for all this, as well as his generosity and sense of humor. He will be deeply missed. In lieu of flowers, donations may be made in Richard's memory to The Kelly Writers House Endowment Fund or the Sierra Club.