Our statement of completion: everything you need to know
Q: Will we get certificates upon completion of this course?
A: Yes, we will present non-credit Statements of Completion to those who complete the course and fulfill all the requirements for such a certification. Such statements are only given out during the annual September-through-November special "live" running of the course—the annual period we call the ModPo Symposium. ModPo will be open all year and we do encourage participants to take the course any time of the year, and indeed to complete assignments, including the essays, any time. But, again, we are only able to award the ModPo Statement of Completion during the 10-week "symposium"-style "synchronous" gathering—the ModPo Symposium—which in 2018 ends on November 19, 2018.
So what are the required assignments? You will receive a Statement of Completion if during the ModPo Symposium you:
write the four essays;
write at least four peer reviews during each of the four peer review periods, for a total of at least 16;
take all the quizzes and receive a score higher than 0.0 on each one of them; and
participate in our discussions by posting a comment at least once each week to any of the poem-specific forums set up for that week.
Further on this fourth requirement: each week's forum will include subforum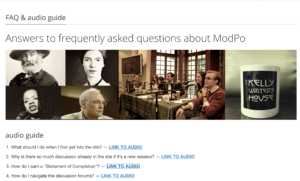 s for the poems assigned for that week. Students seeking a Statement of Completion should post at least once per week, to any of these subforums (you're welcome to post to all of them, of course). ModPo will be open all year but only those who complete the work described above during the September-to-November Symposium will be eligible for the ModPo Statement of Completion. We do not charge a fee for ModPo; our certificate is created and distributed by us at the University of Pennsylvania rather than by our colleagues at Coursera. Once the ten-week Symposium period is completed, we will be in touch about the process and timing of awarding the Statements. If you have questions about this, please post them in the discussion forum.
HERE is an audio recording of Al and Anna discussion the ModPo Statement of Completion.