Announcement 9/7/18: welcome to ModPo — let's get started
Welcome to ModPo 2018. Our ten-week movement through the course begins again tomorrow, Saturday, September 8.
I say "begins again" because many participants have been involved with ModPo in previous years. We created this course—one of the very first MOOCs (massive open online courses) in the humanities or arts—back in 2012. Some of the people you meet in our discussion forums, during our webcasts, etc., have been ModPo'ers for six years already.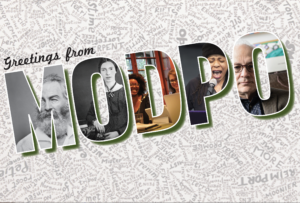 But of course a good many people here are new to ModPo. So a special welcome to all those who are reading these poems, watching these videos, writing the essays and participating in the discussion forums and webcasts now for the first time. Hello and—once again—welcome!
On Sunday we'll begin in earnest to talk about the week 1 poems (by Dickinson and Whitman). And I'll be back tomorrow, with another message to all, describing how it all works.
In the meantime, I hope you will enter the ModPo site, and explore. Look to the left and see the menu there. Click on "Discussion Forums" and take a long look at the way our forums and threads are organized. Click "All Threads" and then you'll see a new thread for introducing yourself. Please do introduce yourself and read at least some introductions posted by others. Click "Forums" and look at how we've organized the forums. Click the "Study Groups & Meet-ups" forum to find people with whom you might like to discuss the poems. Click "Tech Help" if you need help navigating the site or have questions about how the ModPo site and/or Coursera platform work.
And please, please click on "Resources" on the left-side menu. You'll see a submenu. These are absolutely crucial to ModPo. Take a tour of all the submenu items. Watch the introductory videos. Check out our FAQ page. Etc.
Below are a few links to pages of basic info about ModPo.
I look forward to reading your introductions all day tomorrow!
Best wishes,
—Al Filreis
How to contact us: LINK
Follow us on social media: LINK
Find out who we are: LINK
Handy links for all ModPo people: LINK