Rae Armantrout & Angela Carr visit on October 17, 2018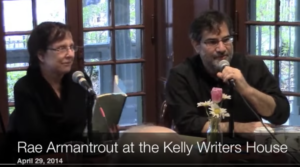 Next Wednesday—October 17—there will be not one but two events held at the Kelly Writers House here in Philadelphia that we hope will be of interest to all ModPo people.
1) At noon, we will convene our usual live interactive weekly webcast, starting at 12 noon (Philadelphia time). Joining us as special guests will be Angela Carr and Rae Armantrout.
2) At 6 PM (Philadelphia time) Rae Armantrout will be reading from her poetry also at the Writers House. If you can get to Philly and be in the in-person audience for that reading, terrific! But please note that—as usual for all KWH events—we will be streaming the event live. The web page for watching the video stream of the reading is different from the one we use for our webcast, so please note. It's THIS: http://writing.upenn.edu/wh/multimedia/tv/ . For more info about this event, go HERE.
We are very excited about Angela's and Rae's visit! As you know, Rae's poems appear variously in ModPo. Below is a list with some links.
The recording of yesterday's good & intense webcast session—about many of the amazing poems of week 5—is now available on YouTube HERE. Please note that the preliminary minutes have been clipped yet, so if you go to the recording soon you'll need to scroll forward to 15 minutes in before you see and hear us start to talk.
—Al
RAE ARMANTROUT IN ModPoPLUS:
re-read Rae Armantrout's "The Way": LINK TO TEXT
watch further discussion of Armantrout's "The Way": LINK TO VIDEO [OFFSITE COPY]
watch another discussion of Armantrout's "The Way": LINK TO VIDEO [OFFSITE COPY]
watch discussion of life & poetry & Armantrout's "The Way": LINK TO VIDEO [OFFSITE COPY]
watch discussion of multivocality & intersubjectivity in "The Way": LINK TO VIDEO [OFFSITE COPY]
read Rae Armantrout's "Second Person": LINK TO TEXT
watch discussion of Armantrout's "Second Person": LINK TO VIDEO
read Rae Armantrout's "Anti-Short Story": LINK TO TEXT
20. listen to Rae Armantrout perform "Anti-Short Story": LINK TO AUDIO
watch discussion of Armantrout's "Anti-Short Story": LINK TO VIDEO [OFFSITE COPY]
read Rae Armantrout's "Postcards": LINK TO TEXT
listen to Rae Armantrout perform "Postcards": LINK TO AUDIO
watch discussion of Armantrout's "Postcards": LINK TO VIDEO [OFFSITE COPY]
read Rae Armantrout's "Cheshire Poetcs": LINK TO TEXT
listen to discussion of Armantrout's "Cheshire Poetics": LINK TO AUDIO
read Rae Armantrout's "View": LINK TO TEXT [scroll down]
read Rae Armantrout's "Traveling through the Yard": LINK TO TEXT
listen to Armantrout perform "Traveling through the Yard": LINK TO AUDIO

listen to Al Filreis & Rae Armantrout discuss "Traveling through the Yard": LINK TO AUDIO (9 mins.)
watch Filreis & Armantrout discuss "Traveling through the Yard": LINK TO VIDEO (LINK TO YOUTUBE) (12 mins.) [OFFSITE COPY]
listen to Ron Silliman ask a question of Armantrout about "Traveling through the Dark": LINK TO AUDIO (3 mins.)
watch discussion of Stafford's "Traveling through the Dark" & "Traveling through the Yard": LINK TO VIDEO [OFFSITE COPY]