ModPo update as we begin week 7
Today we begin to encounter a selection of poems from poets of the New York School. Yes, it's week 7 of ModPo 2018!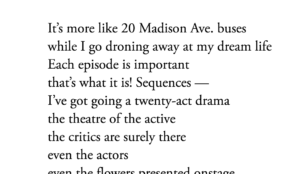 People are already discussing this poems HERE. Please do! It's easy: click that link (THIS ONE) and look to the right side of the screen. Each poem is listed there. Click on any poem you have read and want to discuss and you'll see a poem-specific subforum for discussing it. If you haven't tried this method (read a poem, watch a video, and then discuss it with others) now is a great time to try it. Barbara Guest's remarkable poem called "20" is (most people say) a difficult one. So why not read it, then watch our video on it, and then click HERE to discuss it with others! (It takes a ModPo-sized village to comprehend a [supposedly] difficult poem.*)
This week many ModPo'ers will be writing essays in response to the third essay assignment. If you want substantive feedback on your 500-word essay, try to write it and post it during week 7. Then, during week 8, we will all be commenting on your essays. Posting it this week gives you the best chance to receive many responses next week.
As noted: this week our live webcast will take place on Wednesday at 9 PM Philly time. Mark your calendars! We will be back inside the Arts Cafe, now newly renovated, at the Kelly Writers House. If you are in or near Philadelphia, please plan to join us in person.
—Al
P.S. A new video has just now been added to ModPo's CCCR syllabus—on Lorine Niedecker's "Linnaeus in Lapland." Links to poem text & video are here: http://modpo.org/2018/10/21/new-cccr-video-on-lorine-niedeckers-linnaeus-in-lapland/
[*] Might this not be a model for the way people could encounter other kinds of difficulty?