Al on why week 3 of ModPo is so much fun
Week 3 of ModPo is a favorite!
Reading and discussion H.D.'s "Sea Rose" gives us a chance to try out our ideas about what a modern approach to the oldest poetic symbol for love and beauty might be. Is it possible that the rose as a poetic device was obsolete? Well, that is indeed what H.D.—and also William Carlos Williams, among others—felt. So what kind of poem would be the right way of conveying that radical idea?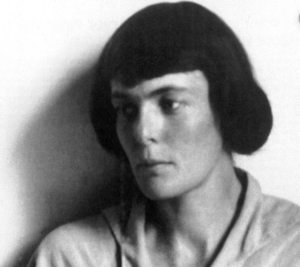 And: a blackbird is a blackbird. Plain and ubiquitous. But wait: Wallace Stevens thinks there are at least thirteen ways of looking at this blackbird. Cubism in writing!
The week 3 poets—imagists and, more generally, early modernists—sincerely believed that they could make poetry new. Whether or not you think such newness is possible, it is exciting to see them try it.
Enjoy your start into week 3 of ModPo 2019! If you need guidance of any sort, just reach out to us in the usual ways. Post a question to the discussion forums or write us at modpo@writing.upenn.edu.
Our live webcast this week is at 10 AM (Philly time) on Wednesday.
Below you'll find two things: 1) an excerpt from the week 3 headnote; and 2) a selection of week 3 materials from ModPoPLUS.
—Al
WEEK 3 HEADNOTE:
Modernism in poetry had many beginnings; imagism marks just one. But in a fast introduction, this brief but influential movement gives us a good place to start. Imagists had no use for late Victorian wordiness, flowery figuration and "beautiful" abstraction. They rejected such qualities through staunch assertions demanding concision, concentration, precise visuality and a sort of super-focused emotive objectivity. In this first of four sections of chapter 2, we will ask ourselves whether each poem meets the impossible or nearly impossible standards set out by imagist manifestos. If any given poem "fails" to meet such standards, it is by no means a sign of "bad poetry." But one way to learn about the rise of poetic modernism is to make discernments based on the poets' own (momentary) programmatic demands.
ModPoPLUS: SELECTIONS FROM THE WEEK 3 SYLLABUS
2.8 read Ezra Pound's "The River-Merchant's Wife": LINK TO TEXT
2.9 watch discussion of Pound's "The River-Merchant's Wife": LINK TO VIDEO [OFFSITE COPY]
5.2 read H.D.'s "Epigram": LINK TO TEXT
5.3 watch discussion of H.D.'s "Epigram" filmed on location in London: LINK TO VIDEO
8.1 read Wallace Stevens's "The Snow Man": LINK TO TEXT
8.2 watch (or listen to) discussion of Stevens's "The Snow Man": LINK TO VIDEO; LINK TO AUDIO
8.3 read Lytle Shaw's "The Confessions 2," a response to "The Snow Man": LINK TO TEXT [LINK TO TEXT COPY]
8.4 watch discussion with Lytle Shaw on his response to "The Snow Man": LINK TO VIDEO [OFFSITE COPY]
8.5 read Lytle Shaw's explanation of "The Confessions 2": LINK TO TEXT
14.3 read Marianne Moore's poem "Poetry": LINK TO TEXT
14.4 watch discussion in the Moore room & archive at the Rosenbach Museum & discussion of "Poetry": LINK TO VIDEO [OFFSITE COPIES: part 1 & part 2]