ModPo update as week 4 begins (9/29/2019)
We are now beginning week 4 of ModPo 2019!
The main ModPo syllabus for week 4 is divided into two parts. The much larger first part is about Gertrude Stein's writing. The smaller second part offers an introduction to a few examples of the experimentalist edge of the modernist avant-garde. This group includes the amazing Baroness Elsa von Freytag Loringhoven.
The headnote I have written for the Stein part of week 4 is copied below. I hope it helps motivate you to try reading and discussing Stein.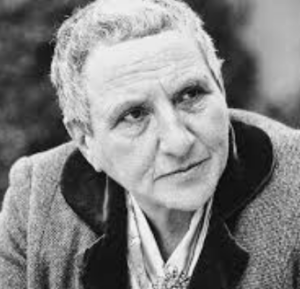 The ModPoPLUS materials—extra, optional, supplemental—on Stein are plentiful! Check them out! We offer additional Stein poems and a number of fun video recordings of us talking further about Stein. And there are SIXTEEN videos recording our conversations over the years about Stein in general. Sorry to brag here, but: I think these sixteen videos about Stein in general together form the best introduction to Stein anywhere available! I have copied the list and links of these introductoins to Stein below. Of course the way to reach ModPoPLUS is to click on "Resources" on the left-side menu of any ModPo web page. From there you will see "ModPoPLUS (pt 1)" among the submenu options.
During week 4 many ModPo people will also be writing and posting essays in response to essay assignment #2. For 2019 we have chosen a new poem—William Carlos Williams's "Poem (As the cat)." HERE is the assignment. Once again, essayists will be posting their essays to a special discussion forum and then next week, during week 5, we will all be commenting on the essays. (Look at the left-side menu, click "Resources," and then click "essay assignment.")
This week our live, interactive webcast will take place at 8 PM Philadelphia time on Wednesday. Plan to join us!
As I write this note to you on Sunday morning, September 29, the system of email notifications (emails about new comments posted to our forums) is not functioning. Until this is repaired, you will need to go directly to the ModPo forums to find out what new comments and questions have been posted by your colleagues. I will let you know when the Coursera folks have fixed this problem. Meantime, if you have questions you can write to us at modpo@writing.upenn.edu.
Your poetry-obsessed pal,
—Al
ModPo HEADNOTE ON STEIN
Gertrude Stein's contribution to modernist poetry and poetics cannot be overstated, so now, in the third section of chapter 2, we turn to her, spending the better part of week 4 of our course on a selection of her supposedly "difficult" writings. The difficulty of deriving any sort of conventional semantic meaning from the short prose-poems that comprise Stein's Tender Buttons turns out for many readers to be a helpful inducement to look for other kinds of signifying. As we hope you'll see from the video discussions in this section, such difficulty need not excuse us from close reading. Stein's poems really can be interpreted. They might reject representation, but by no means do they turn away from reference. The hard work you do in this part of chapter 2 will be amply rewarded when we get to chapter 9. Stein is a particular influence on John Ashbery in chapter 8, but she is a crucial influence on nearly every poet we'll read in chapter 9. As a matter of fact, here in chapter 2 we have a chance to listen to Jackson Mac Low (a chapter 9 poet) talk about why he finds Stein's opaque and difficult Tender Buttons so nonetheless meaningful. And we hear Joan Retallack (another chapter 9 poet) paying homage to Stein's "Composition as Explanation."
FROM ModPoPLUS: VIDEOS ABOUT GERTRUDE STEIN IN GENERAL
1.1 watch discussion on how we assess and value Stein's writing: LINK TO VIDEO [OFFSITE COPY]
1.2 watch Rachel Blau DuPlessis describe how Stein resists normative reading: LINK TO VIDEO [OFFSITE COPY]
1.3 watch discussion on whether close reading works for Stein: LINK TO VIDEO [OFFSITE COPY]
1.4 watch Bob Perelman discuss what the mind must do to read Stein: LINK TO VIDEO [OFFSITE COPY]
1.5 watch Bob Perelman on Stein's version of the idea that a poem is a word machine: LINK TO VIDEO [OFFSITE COPY]
1.6 watch discussion on how Stein's readers participate in discovery: LINK TO VIDEO [OFFSITE COPY]
1.7 watch discussion on how Stein disrupts reading: LINK TO VIDEO [OFFSITE COPY]
1.8 watch discussion on Stein & jazz, movement & improvisation: LINK TO VIDEO [OFFSITE COPY]
1.9 watch discussion of Stein's phrase "All this an not ordinary": LINK TO VIDEO [OFFSITE COPY]
1.10 watch discussion of Stein's phrase "An arrangement in a system to pointing": LINK TO VIDEO [OFFSITE COPY]
1.11 watch discussion of Stein's phrase "The difference is spreading": LINK TO VIDEO [OFFSITE COPY]
1.12 watch further discussion of Stein's views of beginning-to-end narrative: LINK TO VIDEO (8 mins.)
1.13 watch discussion of Stein as pedagogy: LINK TO VIDEO (7.5 mins.)
1.14 watch discussion of Stein & the labor of listening: LINK TO VIDEO [OFFSITE COPY]
1.15 watch discussion of Stein as a conversationalist: LINK TO VIDEO [OFFSITE COPY]
1.16 watch discussion of materiality in Stein: LINK TO VIDEO [OFFSITE COPY]