ModPo webcast on Wednesday May 13 starting at noon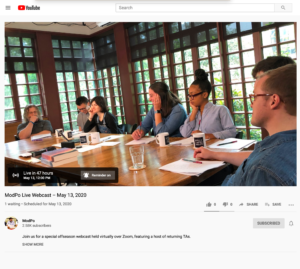 We are hosting a special "SloPo" season live interactive webcast this week—on Wednesday, May 13, starting at NOON Philadelphia time. To check out your time difference, click HERE.
To watch the live webcast, just click HERE at noon or any time between noon and around 1:30 PM. As usual, we will make a recording of the session and will send out the link later. You can go to YouTube now, if you want, and set a reminder.
Most of the ModPo TAs will be joining me, Anna, Zach and Chris for this special discussion: Dave Poplar, Max McKenna, Molly O'Neill, Gabe Ojeda-Sagué, Jason Zuzga, Amaris Cuchanski, Lily Applebaum, erica kaufman, Davy Knittle, Camara Brown, Amber Rose Johnson, and Jess Shollenberger. It's rare that so many of ModPo TAs can join all together in one webcast. Don't miss it!
Here are ways in which you can participate:
You can post a comment of question in the special ModPo subforum thread HERE

. (You can post any time—now, during the webcast, after the webcast…)

You can tweet at us. We are @ModPoPenn and please use the hashtag #ModPoLive .
You can use the YouTube discussion box.
Or you can CALL us directly on the phone: 610-616-3208
You can also talk to us during the webcast by Skype. Just search for our username, ModPoPenn, and select the audio call option to reach us
There is nothing you need to do to prepare for the webcast. We will be talking about some of the poems in the ModPo syllabi, but we don't know which ones yet. If you want, you can have the ModPo site open on your computer or phone or tablet so you can look at the text of the poems we discuss.
If you are new to ModPo, we urge you to check out the live webcast. We think you'll enjoy it a lot—for one thing, a glimpse of the ModPo community in action.