ModPo update, October 2 (Tuesday of week 4): on essay #2; on Stein; on Montreal webcast
This week many of us are writing 500-word essays in response to essay assignment #2. The poem we ask you to read and closely analyze is by H.D. Be sure to post your essay this week if possible* and be sure to post it in the subforum set aside for these essays. If you have questions about the essay, please go to the "Hopelessly lost" and we will help you almost instantly. Or, if you have a technical problem, post to "tech help" or email us at modpo@writing.upenn.edu.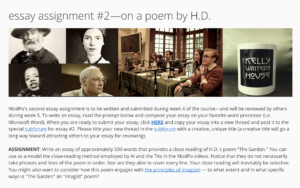 Next week (week 5) we will all be reading and commenting upon the #2 essays being submitted this week.
This week we are facing the challenge of "modernism at extremes." Well, not really extreme per se. But the poems we read and discuss this week are more challenging than the week 3 poems at the level of the line, of the phrase (and in some cases—the Baroness!—at the level of the word). I suppose you could say that a key aspect of reading experimental poetry is learning to enjoy the challenge of either making sense of a poem that doesn't make any sort of conventional sense or of learning to appreciate art that is perhaps designed to "mean" not so much semantically as in the way music, dance, and painting "mean." To this end (as many ModPo'ers have noted) it's a good idea to listen to Gertrude Stein read her experimental verbal portrait of Picasso while watching the video recording of a modern dance company dancing the poem.
Tomorrow a few of us on the ModPo team will re-assemble in Montreal and being filming a series of new ModPoPLUS videos to form an anthology of contemporary Canadian poets and poems within the week 10 syllabus in ModPoPLUS. We have arranged to meet up with a number of fabulous contemporary poets, filming "on location" around Montreal. We'll also film new episodes of ModPoMinute and a new episode of PoemTalk.
We will also of course host our weekly live, interactive ModPo webcast from Montreal. Please note again that this will begin at 6:30 PM Montreal time—and will take place on Thursday (October 4) rather than Wednesday as usual. The link for the live stream will be here as usual: http://writing.upenn.edu/wh/multimedia/webcasts/ . Put the day, time & link in your calendars! (Just to be really clear: although we will be in Montreal, you can watch and participate as usual from anywhere.)
Yours,
—Al
[*] If you want lots of feedback on your essay, submit it this week (before Sunday). If your aim is to receive a ModPo certificate, you must write all four essays and submit them any time during the 10-week "symposium mode" of the course. So you could submit essay #2 any time during these 10 weeks but, again, if you want our responses submit it this week.