Info for watching/joining our live webcast (10/24/18 at 9 PM)
Tonight at 9 PM (Philadelphia time) we will host our week 7 webcast! Please plan to join us. The video stream will be available HERE.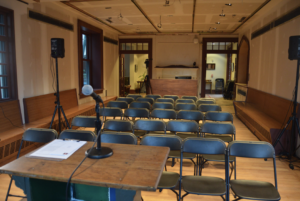 No need to wait until the webcast begins to post your comments or questions: HERE (a special discussion forum thread) is where you can post any time before or during the webcast.
Links and guidelines are below.
Please call us to speak with us directly: 610-616-3208 . Tonight the first & second callers will each receive a book of poetry as a gesture of friendship and gratitude from the ModPo team here at the Kelly Writers House.
If you would like to help crowdsource references made during the webcast, and help Ray Maxwell compile them, please click HERE and let Ray know you'll support this effort.
Tonight we will be coming to you live from the newly renovated Arts Cafe inside the Kelly Writers House! We are very excited. Jut wait until you see this new room—with its entire south-facing wall of windows!
—Al
INFO ABOUT TODAY'S 9 PM (Oct 24) WEBCAST
You can watch the live stream HERE. If you prefer, you can also go to the ModPo group page on Facebook and you'll see there a "Facebook Live" video stream.
We hope you won't just watch (although you can just watch!). We hope you will participate in the discussion. Here are four ways:
1) CALL US. You can call us on the telephone! The number is 610-616-3208. Please do call us! If you are the second caller, you will "win" a poetry book, which we'll mail to you after the webcast.
2) POST A COMMENT OR QUESTION TO THE SPECIAL 10/24/18 WEBCAST DISCUSSION THREAD. For each webcast we create a special thread in the ModPo discussion forums. Click HERE to view the thread. Add your comments or questions. We will read them all. We will try to respond to some of them during the live session.
3) TWITTER. Many ModPo webcast fans like to interact with others using Twitter. Use the hashtag #ModPoLive. If you think of it include ModPo's twitter handle: @modpopenn . One of the TAs will be watching twitter and we can respond to you that way.
4) FACEBOOK. If you are watching the Facebook Live video on the ModPo group page, you can read and add to the comment stream you'll find under the video player there.
As usual we will make available a recording of this webcast, and will send out a link to it soon after the session. The webcast schedule for ModPo 2018 (and other info) can be found HERE.