ModPo comes to Boston, October 10-12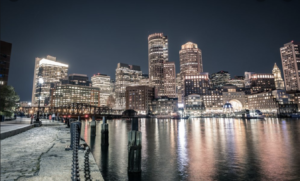 We would like to announce that the ModPo team is going on the road again. Each October we go somewhere and meet up with ModPo people. What fun it's been! In recent years: London, Los Angeles, San Francisco, Washington, Montreal, Prague, West Palm Beach, New York City. This year we are traveling to BOSTON!
If you are in or near Boston, please plan to join us at one or both ModPo events. If you are far from Boston, would you consider traveling to meet up with us? (ModPo'ers have generously made long trips to join us for these adventures. Folks came from Paris, Madrid, Switzerland, Warsaw, and Edinburgh to see us in London!)
Yes, we will be in Boston in early October. On Thursday, October 10, at 7 PM, we will be hosting our weekly live webcast from the campus of MIT and will be joined by poet Nick Montfort among others. On Saturday, October 12, we will gather for a little reception and a meet-up during which we will collaborate on a close reading of two poems; this second event will take place at 6:30 PM at the home of Professor Lisa New, whom many of you know as the teacher/convener of Poetry in America.
Each of these two events has limited seating. If you plan to join us, please RSVP by writing us at modpo@writing.upenn.edu.
The full information about both events is posted below.
***
ModPo in Boston, 2019
THURSDAY, OCT. 10:
ModPo webcast starting at 7 PM
Massachusetts Institute of Technology
Building 14E-305
160 Memorial Drive
Cambridge, MA 02139
SATURDAY, OCT. 12
Gathering and collaborative close reading starting at 6:30 PM
at the home of Lisa New
207 Fisher Avenue
Brookline, MA  02445