ModPo 9-25-2019 webcast info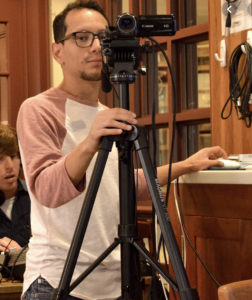 At 10 AM today (Philadelphia time)—approximately 2.5 hours from now—we will convene our weekly live webcast!
HERE is your link.
You can call us at 610-616-3208.
You can tweet using the hashtag #ModPoLive (we tweet from @modpopenn).
And please post comments and questions to the special week 3 webcast thread in the ModPo forums HERE.
Another way to find the webcast: click on "Resources" in the left-side menu on any ModPo page, then click "live webcasts."
Some folks think of open online courses (so-called MOOCs) as one-way instruction—as delivery-only teaching. We at ModPo think otherwise. Join us for today's webcast and see that we are there, we are here, we are alive and present-tense and want to talk with you about the poems. Our webcasts have no set agenda and our responses to your questions and comments are improvised and collaborative. In other words: we are coming to you LIVE and IN PERSON from our Kelly Writers House!
Check us out. We're your poetry pals.
—Al
P.S. What time is it where you are? I don't know. Too many of you out there for me to know as I send this. But you can find out what time it is here in Philadelphia by clicking THIS LINK.