Erín Moure featured in livestream reading and Q&A: 3/30/2020 at 5:30 PM
As part of our continued efforts to bring some poetry to your work-from-home and social distancing realities, we wanted to let you know about an exciting upcoming livestream event: a reading and Q&A by Canadian poet Erín Moure on Monday, March 30th, starting at 5:30 PM Philly time.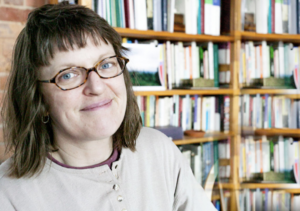 Many ModPo'ers will remember Erín Moure from our 2017 "on the road" webcast in Montreal, where Erín joined us to talk about Gertrude Stein and the rest of the week 4 poets.
If you'd like to read more of her work in advance of the reading, please visit our sampler of contemporary Canadian poets in the week 10 section of ModPoPLUS (scroll down on this page).
If you would like to leave a question for Erin to answer during the Q & A portion, you can leave a question in this discussion thread, which Anna and Lily will be monitoring during the livestreamed event.
You can also ask a question by tweeting us, using the hashtag #ErinMoureLive during the event, or by sending Lily (alily@writing.upenn.edu) with the subject line "A question for Moure."
This reading is part of the Kelly Writers House Fellows series, and these events typically take place in the Arts Cafe at the Writers House. For more about the Fellows program, please go here: http://writing.upenn.edu/wh/people/fellows/
And if you'd like to join us for the livestream, please use either of the following links to access the livestream on Monday, March 30 at 5:30 PM ET:
1) link to KWH TV: http://writing.upenn.edu/wh/multimedia/tv/
2) link to YouTube channel: https://www.youtube.com/user/KellyWritersHouse
All the best, as always,
—Al
Erin Moure in ModPo:
watch our October 2018 webcast in Montreal featuring Erin Moure & others: LINK TO YOUTUBE
episode of ModPoMinute featuring Erin Moure: LINK TO YOUTUBE
read Erín Moure's "The Notification of Birches": LINK TO TEXT
watch discussion of Erín Moure's "The Notification of Birches": LINK TO VIDEO [OFFSITE COPY]
watch Erin Moure & others on Gertrude Stein as a conversationalist: LINK TO YOUTUBE