2-hour discussion of Marianne Moore's "Poetry": Wed., April 1, 11 AM-1 PM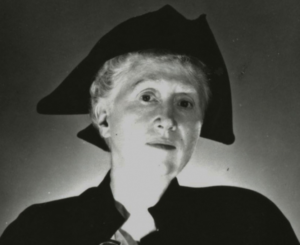 Our series of 2-hour special ModPo TA "office hours" continues with the next session to be held this week — specifically on Wednesday, April 1, from 11 AM until 1 PM Philly time (eastern US time). Jess Shollenberger will lead this conversation, which will take place in a special thread inside the ModPo discussion forum. The poem Jess has chosen to discuss is Marianne Moore's poem called "Poetry."
The thread is HERE. That, to repeat, is where the discussion will happen at 11 AM on Wednesday.
See below for other links and further information. If you ever have questions about this or any activity organized by ModPo, contact us by sending an email to modpo@writing.upenn.edu.
—Al
Jess writes as follows:
Hello, ModPo people. On Wednesday, April 1, from 11:00 AM t0 1:00 PM eastern (Philadelphia) time, I will be hosting – in this thread – a special two-hour long discussion of a poem called "Poetry" by Marianne Moore. I hope you'll join me.
Find the poem here: https://poets.org/poem/poetry
Watch a discussion of "Poetry," recorded at the Moore archive in Philly at the Rosenbach Museum here: https://www.coursera.org/learn/modpo/resources/bDMv9
Watch the ModPo team riff on Moore's "imaginary gardens with real toads in them" here: https://www.youtube.com/watch?v=JaFA6JPxFz0&feature=youtu.be
You do *not* need to watch these videos in order to participate in this "live" discussion, which begins at 11 AM (Philadelphia time) on Wednesday, April 1.
Wishing all of you the best, and looking forward to this discussion of "some things that are important"…