Week 2 of ModPo 2020 has begun
Week 2 of ModPo 2020 has begun!
This week, as you know, we will explore poems written by poets who are influenced by—and/or are responding to—Dickinson and Whitman. For a 5 1/2-minute video introduction to week 2, click HERE. And for an 11-minute further intro (audio only), with transcript, click HERE.
The week 2 poems and videos can be found HERE.
ModPo people are already discussing these poems HERE.
This week's live, interactive webcast will happen on Wednesday (September 16) at 3 PM Philadephia time. This week the ModPo team will be joined by two wonderful poets, Angela Carr and Kate Colby. More on the webcast soon. We can't wait to talk about the week 2 poems with you and Angela and Kate!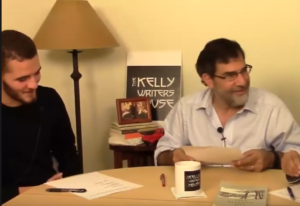 This is also the week when many ModPo people will be trying their hand at writing a short essay of close reading in response to essay assignment #1 (of 4). I will have more to say about the essay, and the process of submitting it, in my message to you tomorrow. Meantime, however, please go HERE and learn more about the essays—and in particular about essay #1, which asks for your close reading of a poem by Dickinson we have never (yet) discussed in ModPo. You will be posting your essays to a special discussion forum thread, and during week 3 many of us will be taking time to write comments in response to your essay. More on all this tomorrow, as promised.
I will also have more to say, soon, about ModPoPLUS. Meantime, feel free to explore the ModPoPLUS syllabus for week 2. It's quite extensive and includes many poems and videos that will be new even to those who have been ModPo'ers for years.
Below are a few selected highlights.
Yours ever,
—Al
SELECTED HIGHLIGHTS:
1. Video on Elizabeth Willis's "Survey": LINK TO VIDEO
2. Video clip in which we discuss whether it's possible to over-interpret a poem: LINK TO VIDEO
3. Video on Emily Dickinson's "Volcanoes Be in Sicily": LINK TO VIDEO
4. A two-minute ModPo week 2 highlight reel: LINK TO VIDEO