ModPo today (9/11/18)—what's on Al's mind
Oh, as we discuss Dickinson's intense creative power and Whitman's craving for a word so basic that it's just sound ("lull" [canto 47])—these complex precursors to modern writing in the U.S.—I am thinking of some ModPo-ish things to tell you, variously, as follows:
OFFICE HOURS: Take advantage of the "office hours" offered by our marvelous TAs, at various set times each week: LINK. Many ModPo people have enjoyed these small "side" conversations.
WEBCAST TOMORROW: We are excited about our first live, interactive weekly webcast tomorrow, at 3 PM Philadelphia time. Plan to join us live if you possibly can. I will write again about how the webcast works later tonight or tomorrow morning. Please go HERE meantime to have a look at the info we provide. If you are in or near Philadelphia, please plan to join us in person tomorrow! We will be happy to meet you!
BE SURE TO 'FOLLOW' DISCUSSIONS: A word about "following" discussion forum threads. If you "follow" a thread you will receive email notifications each time someone else adds a reply or comment. We strongly urge you to follow all or most of the threads in which you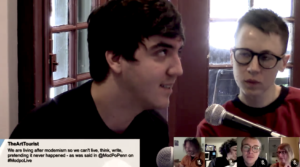 participate. That is the best way for you to see others' response to your ideas. There are two ways to follow a thread. (1) At the bottom of the very first comment posted to a thread, you'll see "Follow this discussion," so click that. (2) When you post a comment or reply in a thread, you will see this: "Follow this discussion to receive emails when others reply." Click the little box just to the left of that sentence. If a thread you are following becomes long (such as the introductions thread) you might feel overwhelmed by emails coming into your inbox. We suggest either that you quickly read and delete, or that you create a mailbox folder so that all ModPo messages automatically go there and don't tend to clutter your inbox. If you need help with this, ask a tech-savvy friend or post a note in our tech help forum.
MODPO.ORG: We have created modpo.org — a non-Coursera web site that can be your go-to page for all things ModPo. Check out http://modpo.org/ often!
FOR TEACHERS: If you are teacher, please do two things: (1) take a long look at our Teacher Resource Center HERE; and (2) say hello in the "For Teachers" discussion form HERE. If you are not a teacher but are concerned about how teachers teach poetry, or about teaching in general, please join us!
ModPoPLUS: If you are returning to ModPo and have already read the poems in the main syllabus, and would like more, don't forget that we have created ModPoPLUS for you. Start HERE and have fun!
FIRST ESSAY NEXT WEEK: Yes, next week many of you will be writing in response to essay assignment #1. You'll be close reading a Dickinson poem—and (to you returners) please note that this is an essay about a new poem. More about submitting ModPo essays later.
Wanting to hear the lull…
—Al