ModPo update for Sat. Sept. 29, 2018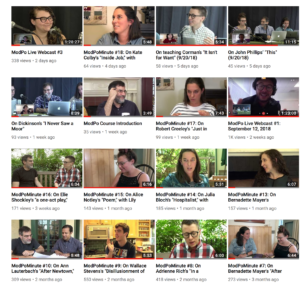 Tomorrow (Sunday, September 30th) week 4 of ModPo 2018 begins. Perhaps today is a good day for reading a few more week 3 poem (perhaps THIS ONE), viewing a few more videos (such as THIS ONE), and commenting in some of the dynamic poem-specific subforums.
Among the many lively week 3 discussions going on right now is THIS thread entitled "Someone help me learn to love these poems." Join those folks!
If you missed this week's week 3 webcast, please watch the recording we've made available: HERE. (HERE is the ModPo YouTube channel, where you can watch any and all previous webcasts, the ModPoMinute episodes, and hundreds of other ModPo videos we've copied there.)
Below is a list (with links) of some videos we recently added to the ModPoPLUS syllabus for week 3. Peter Gizzi, a much-admired contemporary poet who writes partly under the influence of Wallace Stevens's particular kind of modernism, visited us at the Writers House. We talked with him about one of his poems and one by Stevens.
If you want to join us in Montreal this coming Thursday and/or Saturday, please write to us at modpo@writing.upenn.edu.
More about week 4 (Gertrude Stein!) tomorrow!
—Al
read Wallace Stevens's "Not Ideas about the Thing but the Thing Itself": LINK TO TEXT
watch discussion of Stevens's "Not Ideas" with Peter Gizzi & others: LINK TO VIDEO
listen to a 30-min. discussion on Stevens's "Not Ideas": LINK TO POEMTALK
read Peter Gizzi's "Archeophonics": LINK TO TEXT
watch discussion of Peter Gizzi's "Archeophonics" with the poet: LINK TO VIDEO