ModPo week 1: webcast & office hours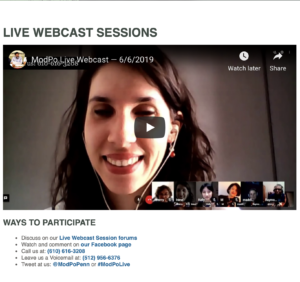 Today I want to highlight two things: 1) our first webcast coming up on Wednesday at 3 PM (Philadephia time) and 2) our office hours.
WEBCASTS: Yes, our first weekly live webcast will happen at 3 PM on Wednesday. Tomorrow I'll send all the details, but in short: at the time of the webcast click here
http://writing.upenn.edu/wh/multimedia/webcasts/
—and you will see us live in the Arts Café of the Kelly Writers House. We'll talk informally about Dickinson and Whitman—the week 1 materials and topics—and there are many ways in which you can interact with us. For more info about our famous webcasts, go HERE. And see the whole webcast schedule HERE.
OFFICE HOURS: The TAs and I host office hours throughout the week. Please join us! It's a great way to get instant answers to your questions about the poems or about the course. What sort of Massive Open Online Course (MOOC) enables that kind of responsiveness? (Answer: the kind of MOOC that ModPo is. An open online course need not be impersonal!) Take advantage of our being there, ready to talk about any topic. HERE is the schedule of office hours. You can find it by clicking on "Resources" on the left-side menu; then click "office hours." Below I list and link office hours for the first part of this week. erica kaufman has her office hour in a few hours—tonight at 6 PM—HERE.
Already there's been such good discussions about Dickinson and Whitman. Join these HERE!
For those who are returning to ModPo from previous years: you might enjoy a relatively new video we added to the main syllabus—about canto 47 of "Song of Myself." Check it out HERE.
Yours ever,
—Al
OFFICE HOURS
Mondays
1​0 AM: Anna Safford
6​ PM: erica kaufman (TRC office hour)
Tuesdays
7:30​ AM: Amber Rose Johnson
1​0 AM: Max McKenna
1​1 AM: Jess Shollenberger
1​2 PM: Amaris Cuchanski
1​0 PM: Dave Poplar
Wednesdays
3​ PM: Ali Castleman
4​ PM: Davy Knittle
7​ PM: Jake Marmer
9​ PM: Jason Zuzga